Printing Posters at CSE
CSE has a colour printer that can print various types of paper up to A0 size. It is kept in the level 1 printer room (K17-107).


The printer is available to CSE staff and students, generally for printing research related posters.


Other users and uses may be permitted, on approval by the CSE Head of School, or an appropriate CSE staff member.


Poster printing is not a core service of the CSG. It is provided as a courtesy to the School to save money on printing costs.


CSG schedules print job around core activities, and needs time to deal with the occasional media problem or device related technical issues.


For non-CSE activities, or if you need to print a poster quickly, or if you need to laminate your poster, then you should go to: you should contact the main poster printing shop at UNSW:The Green Print Centre.


UNSW Standard Research Poster
The image below is the University's required layout for research posters. The powerpoint template can be downloaded from the CSE mirror This is A0 size but we can scale this to A1 or A2 if required.
This layout has been designed to be less restrictive and provide less space for the UNSW corporate branding compared to the previous template. It will allow researchers much more flexibility when designing their posters.
The font for the heading lines is Arial, the size and positioning are just suggestions but you should ensure that the logo is good quality, e.g. correctly proportioned and of high resolution, and extends 20% of the width of the poster.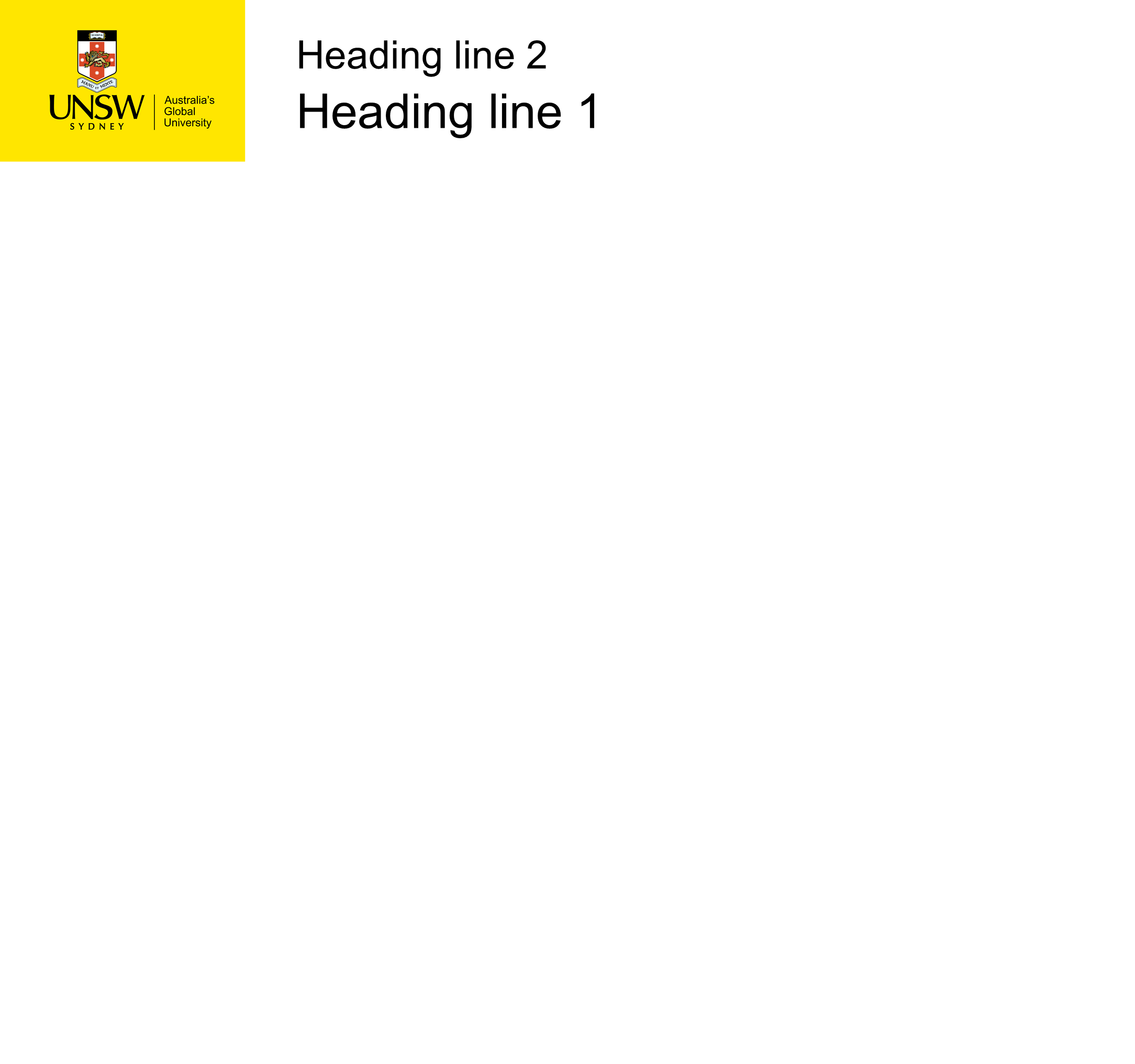 Submitting a Poster Printing Job
Send your poster as an email attachment to posters@cse.unsw.edu.au. You cannot print to the CSE poster printer directly. Only staff in the Computer Support Group (CSG) are permitted to print to the printer directly.


Your poster must be in PDF format as this format is more likely to produce a final printout that is the same as the that displayed on your computer screen.


All content should be embedded in the final PDF output file. This ensures against issues such as missing images, font mismatches, or typographical layout errors.


Please nominate the poster size you require e.g. A1, A2, and whether it needs to be exactly that size. See Section 2 for more information.


You should give a minimum of two working day's notice for print jobs. In particular, please do not expect posters to be printed an hour (or even a day) before you board a plane.


Final Checks Before Submitting Your PDF
Always check your PDF before sending it to us, check;
for things like bad line wraps, spelling or grammatical errors, or low-quality, pixelated images that will not look good when printed at a large size.


you have used the poster template provided (section 1.1)


the poster title and the author list is Arial


the university is referred to as UNSW Sydney


the poster complies with the UNSW branding requirements. More information can be found in the myUNSW webpages at Branding Requirements and Branding Refresh Starter Kit. You need to be logged into myUNSW to access those links.
Poster Size
The "A series" paper sizes are preferred here for posters. However, the printer paper is actually slightly oversize, approximately 1.5cm wider for A1 and 7cm wider for A0. When requesting a poster, please let us know if:

You need the exact A series size, or
You would like the poster to be printed slightly oversize and to the width of the paper (this is often the preferred option).

In either case you may need to trim your poster after you collect it, especially if you require the exact A series size.
Please be conservative about your choice of poster size. A0 posters are impressively large but they are impractical in most cases. A1 posters (or smaller) are much easier to carry (such as on a plane) and are easier to mount.
Here are the sizes:



| | | |
| --- | --- | --- |
| A0 | 1189 x 841 mm | 46.8 x 33.1 in |
| A1 | 841 x 594 mm | 33.1 x 23.4 in |
| A2 | 594 x 420 mm | 23.4 x 16.5 in |
| A3 | 420 x 297 mm | 16.5 x 11.7 in |
| A4 | 297 x 210 mm | 11.7 x 8.3 in |


Even if you require a smaller poster, we recommend that you provide an A0 sized version, and we will scale it down when it is printed.


Transporting Posters
A number of adjustable (telescopic) poster tubes suitable for securely housing and transporting posters up to A0 in size, to and from Conferences etc., are available from the CSE Finance Office located in K17-111D.
These poster tubes are expected to be used as accompanying luggage and are expected to be returned. As such they will probably not be lent out if the posters are simply to be sent by mail.